Note: This blog does not support underage drinking. It is an offence to supply a minor (a person of 17 years of age, or younger) with alcohol in New Zealand. If you are the parent or legal guardian of a minor, and you wish to supply them with alcohol, it must be done in a safe and reasonable manner.
For Alcohol Law and Penalties in NZ, click here.
----------------------------------------------------------------------------------------------------------------------------------------
Skip the boring beer this year - holiday parties deserve fun, festive drinks, like Christmosas and Jingle Juice. Whether you want champagne, vodka, rum, or tequila base, there is a drink for you.
Boozy Grinch Punch - Get into the festive mood with these bright green cocktails!
Ingredients:
1 packet Kool-Aid Lemon Lime mix
4 cups water
4 cups ice
3 cups lemon-lime soda
2 cups pineapple juice
2 cups vodka
1 cup ginger ale
Lime wedges, for rimming
Red sanding sugar, for rimming
Directions:
1. In a large pitcher combine Kool-Aid and water.
2. In a large punch bowl, combine ice, kool-aid, soda, pineapple juice, vodka, and ginger ale.
3. Use a lime wedge to rim glasses and dip in sanding sugar to coat. Pour punch into glasses to serve.
White Christmas Margaritas - Switch up your usual holiday cocktail this year with this!
Ingredients:
1 can unsweetened coconut milk
12 oz. silver tequila
8 oz. triple sec
1/4 cup lime juice
4 cups ice
Lime wedge, for rimming glass
Sanding sugar, for rimming glass
Lime slices, for garnish
Cranberries, for garnish
Directions:
1. Combine coconut milk, tequila, triple sec, lime juice, and ice in a blender. Blend until smooth.
2. Rim glasses with lime wedge and dip in sanding sugar. Pour into glass and garnish with lime and cranberries.
Christmosas - The only thing you need in your hand when opening presents!
Ingredients:
2 apples, chopped
1 cup fresh cranberries
1 cup green grapes, halved
1 cup pomegranate seeds
1 cup sparkling grape juice
1 bottle of Champagne, Processo, or Cava
Directions:
1. In a large pitcher or punch bowl, combine apples, cranberries, grapes, and pomegranate seeds. Pour over sparkling grape juice and Champagne and stir well to serve.
Santa Hat Jell-O Shots - A Christmas party wouldn't be complete without Santa and these Jell-O shots are the perfect way to include him.
Ingredients:
1 and 1/4 cup water
3/4 cup vodka
1 package strawberry Jell-O
1 container Cool Whip, thawed
1 pint strawberries, hulled
Directions:
1. Pour water into small saucepan and bring to a boil. Once boiling, remove from heat and add Jell-O packet, stirring until dissolved. Add vodka. Pour into plastic shot glasses and refrigerate until set, about 1 hour.
2. Top with a dollop of Cool Whip, then place a strawberry on top, pointed-end up. Top with a small dot of whipped cream, to resemble Santa's hat. Serve.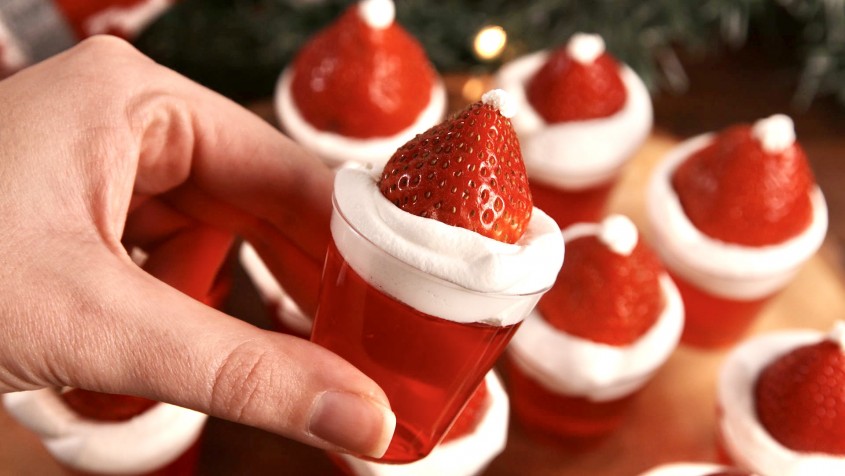 Recipes from www.delish.com.