Joneen, Hannah, Morgan and Brenda from Hello Home Interiors.
Trusted with designing the entire interior of their client's retirement villa, Wellington-based Hello Home Interiors had an exciting challenge ahead of them. As the period villa was situated near the ocean, the interior design studio – headed by director Joneen Rodgers - focused on creating a breezy, muted aesthetic reflective of its surroundings with a nod to the era of the house.
We sat down with Joneen Rodgers, who has a rich background in residential interiors for over 15 years, to chat about this stunning period villa project.
Who is the project for?
This project was for some repeat clients who had downsized, purchased a period villa and wanted to create their retirement home.
Tell us a little bit about your client's brief.
Our clients loved aspects of the old home but essentially wanted to create a warm, comfortable home to spend their retirement. Near the ocean and with a nod to the era of the house and some of its special features, we were asked to create an aesthetic that matched this without being over the top or tacky. The kitchen was always going to be the show-stopper. It was to have visual impact, function as a kitchen, dining space and incorporate a laundry and great indoor/outdoor flow.
How did you arrive at the final design? What guided the aesthetic?
We were fortunate enough to be trusted with designing the interior of the entire home, so we started with a theme and pulled aspects of this into every room of the house. We decided to keep the period skirting boards, picture rails, fireplaces, sash windows, paneled doors and brass aspects. We then looked to create a breezy, muted ocean-like palette with the paint, wallpaper, carpet and window treatments. We confirmed the functionality, layout and storage solutions for the kitchen first, then used the elements we'd created throughout the rest of the home to create something spectacular.
What were some of the challenges?
There is nothing quite like finding out about a nationwide GIB shortage on the day you've stripped and completely gutted the house. Dealing with supply issues was definitely a challenge. In terms of the space, there was a very high stud and we didn't want the kitchen, dining and living space to look like a tunnel or runway, which posed a few design challenges. To define the kitchen space and create visual impact, a timber bulkhead was designed and executed by both builder and joiner with immaculate precision.
Being an old home, of course none of the walls, ceiling or floor were level. Again our team of trades worked hard to rectify this.

The space is quite long so the thoroughfare to the outside and living space posed a challenge in terms of thinking about the joinery design and the how the end user would go about their daily tasks. This is where the Häfele Concepta doors were a fantastic design solution.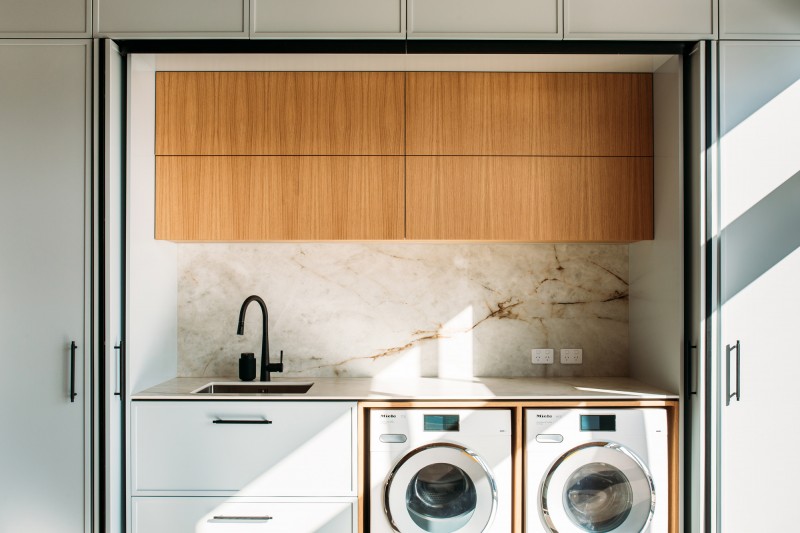 What Häfele product was featured in this design, and what do they add to the design?
The Häfele Concepta doors were used for the laundry and pantry. They add an element of wow and sophistication to the design. But, most of all, they are such a practical solution to high-use areas. Doors can be tucked away so they don't block the flow around the space during busy times of the day. And when they are closed, they blend beautifully into their surroundings.
Additional products
Häfele Concepta - Bifold and Single
Appliances - Miele + Mitsubishi (Fridge)
Joinery - Custom made framed panels finished in marine grade satin paint finish
Benchtops - Neolith - Himilaya Crystal
Handles - Archant
Flooring - Vidaspace
Get in touch with Hello Home Interiors.
Email: joneen@hellohome.co.nz
Website: www.hellohome.co.nz
Instagram: @hellohomenewzealand
Phone: 021 0295 5156