From innovative pull-out pantries to fashionable open shelving, there's no doubt that storage is paramount in creating a clean and clutter-free kitchen experience. Here we've compiled some handy storage ideas to organise herbs, spices, pots, pans and everything under the sun.
1. Free up cabinet space with open shelving
Open shelving frees up space off the floor while maximising wall space. Place pretty dishes, glassware, stemware, potted plants or statement pieces for all to see. These shelves are functional yet also double as kitchen décor.
Consider a floating shelf style for a clean and minimalistic aesthetic or modular shelves for a geometric look.
2. Utilise overhead cupboard space with clever access fittings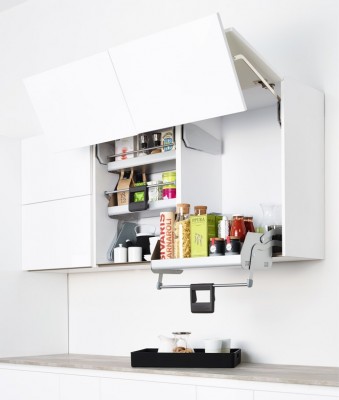 If you only use overhead cupboard spaces to store items that are seasonal or aren't frequently used, then consider installing an access fitting.
Access fittings, such as the iMove Overhead Pull-Down Storage, float the contents of your wall unit gently down into easy reach. They maximise that top bit of cupboard space that is otherwise unused, and offer an accessible way of getting to your snacks without stretching on the tips of your toes.
3. Use drawer inserts to organise frequently-used utensils
Organise frequently-used utensils with drawer inserts, so you don't have to dig around during dinnertime.
Our drawer inserts can be easily rearranged to fit your personal preferences, and come in striking finishes that cohesively match the Scala drawer system. Bonus: they're of robust quality and will stand the test of time.
4. Hang cookware on vertical hooks
If you have plenty of vertical space, consider adding hooks to hang pots, pans, spoons or measuring cups off the walls. You'll free up space in the cabinets while oozing a lived-in, rustic look.
5. Light up your cupboard, drawers or scullery
Illuminate your kitchen space with LED strip lighting or cabinet downlights. With these LOOX 2026 LED Downlights, you'll save time looking around for items while accentuating the best features of your cooking space.
6. Maximise unused spaces with a pull-out pantry
Make use of every inch of your kitchen with pull-out pantries. They're great at maximising otherwise unused spaces while having the added perk of sliding out to meet you, so there's minimal reaching into the depths of your cabinets.
Pull-out pantries come in a range of versatile sizes. Some pantries, like Kesseböhmer's No.15 Underbench Pull-out, are just 15cm wide, making them the perfect solution for installing next to the cooker. They're handy for storing herbs, spices, condiments or other cooking essentials in a compact space.
7. Keep rubbish out of sight with pull-out bins
Pull-out bins keep rubbish out of sight yet within easy reach. They're perfect for those who regularly love to entertain guests but want to tidy up at a moment's notice.
These Hideaway waste bins offer twin bins that allow you to separate your recycling from general waste. They're easy to clean in the sink, and feature high quality, smooth runners that have the same feeling as opening a drawer.
8. Keep devices off the countertops with docking drawers
Keep your phones, adaptors and cables off the countertops with handy docking drawers. You can charge your devices out of sight but also have them close-by for a quick recipe search or metric conversion.